A feast for the eyes!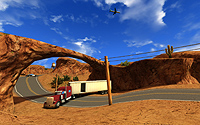 Without giving away too many sensitive details, in this gargantuan piece of art, TTI revisits a theme from one of his old maps. In terms of file size, this is by far our largest map ever. With all the new assets and its geometry, the map takes more disk space than the first two Doom games combined.
...and I don't mean the shareware episode!
(click the picture for a bigger version)
(it's taken in a widescreen aspect ratio, btw!)
We're going to get a public bug tracking database online soon so y'all can see what issues are still around for Reaction. I just need to move the bugs and feature requests from random forum posts into the actual bug database. It's just not as impressive if I post a link there before there's anything to see, eh!
I've still got to update the docs online for Reaction and also update a list of permissions. I'll try to get off my buttocks and post about that in the next week, for reals this time!
I also need to get ahold of dragoneye and gloom sometime to see what's what with some of those maps. You hosers can also hit me up at monk@rq3.com if you get to it before I do! ;)
/me waves to Zaragoza! Muchas gracias!